Urinary Flush & Support by Nature's Secret 60 Capsules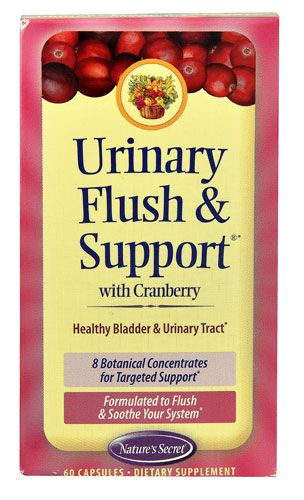 Urinary Flush & Support by Nature's Secret 60 Capsules
Nature's Secret Urinary Flush & Support with Cranberry Description
Healthy Bladder & Urinary Tract

8 Botanical Concentrates for Targeted Support

Formulated to Flush & Soothe Your System

Delivers the Protective Power of Cranberry
Urinary Flush & Support
Urinary Flush & Support is specially formulated to support a healthy bladder and urinary tract. This enhanced product supplies 8 botanical concentrates that are traditionally used in urinary formulas.
Urinary Flush & Support features a highly-concentrated Cranberry powder that has been clinically studied to promote urinary tract health. This patented and standardized ingredient captures the whole-food power of cranberry and supplies the whole-food power of cranberry and supplies antioxidant compounds that help to fight free radicals.
This cranberry-based formula not only supports the urinary system, but offers an excellent alternative to cranberry juice products, which have significant amounts of refined sugars. This product can be taken on a daily basis for healthy maintenance or as needed for targeted support.
Take Control of Your Health
Experience the Sensation of Whole-Body Wellness...
Who is Nature's Secret?
At Nature's Secret we believe that total body wellness is the key to overall health.
The conventional approach to health sees the body as a set of separate parts, each needing their own separate treatments. Take a look at the way our medical system is organized-from cardiologist to dermatologist, we have a doctor for nearly every body part. But nature has a well-kept secret... there is no separation between any of our systems. They are all intricately connected in a brilliant dance only nature could orchestrate. At Nature's Secret, we develop our products using this whole-body philosophy.
We understand, for example, that sluggish digestion can lead to low energy levels and shouldn't always be supported with caffeinated energy tablets. Our approach focuses on the origins of imbalance, not the signs of imbalance. This is Nature's Secret, total body wholeness and wellness.
---
Directions
(Adult) Take two (2) capsules twice daily with a full glass of water. Drink 8 to 10 glasses of water per day.
Disclaimer
These statements have not been evaluated by the FDA. These products are not intended to diagnose, treat, cure, or prevent any disease.