Respiratory Support & Defense by Nature's Secret 60 Tablets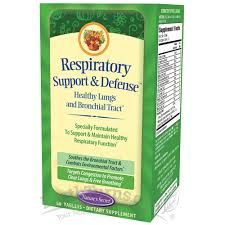 Respiratory Support & Defense by Nature's Secret 60 Tablets
Nature's Secret Respiratory Support & Defense™ Description
Healthy Lungs and Bronchial Tract®

Specially Formulated to Support & Maintain Healthy Respiratory Function

Soothes the Bronchial Tract & Combats Environmental Factors

Targets Congestion to Promote Clear Lungs & Free Breathing
Your lungs draw more than 20,000 breaths of air into the body everyday. Yet most of us take for granted how important respiration is to overall health and well-being.
Respiratory Support & Defense is designed to nourish and support the entire respiratory system. it supplies a robust blend of 14 botanicals including Fenugreek and Marshmallow. Plus it features NAC - a powerful amino acid to help maintain clear bronchial airways and boost levels of glutathione (a major antioxidant for the respiratory trace and lungs). This product can be taken everyday for health maintenance or as needed for targeted support.
---
Directions
(Adult) Take two (2) tablets twice daily with a full glass of water.
Free Of
Artificial colors and preservatives.
Disclaimer
These statements have not been evaluated by the FDA. These products are not intended to diagnose, treat, cure, or prevent any disease.