N.O. XPLODE by BSN 30 Servings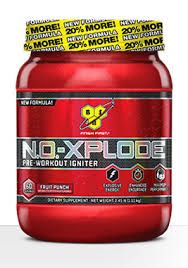 N.O. XPLODE by BSN 30 Servings
Fuel your body with advanced ingredient technology to help push you past previous limits. N.O.-XPLODE™ is scientifically engineered to support explosive energy, enhanced endurance, and maximum performance during your training.*

Approximately 200mg of caffeine per serving. WHILE MIXING N.O.-XPLODE™, DO NOT SHAKE. STIR POWDER WITH UTENSIL. PHENYLKETONURICS: CONTAINS PHENYLALANINE.
* These statements have not been evaluated by the Food and Drug Administration. This product is not intended to diagnose, treat, cure, or prevent any disease.

Serving Size 1 Scoop Servings Per Container 30 Amount Per Serving % DV Total Carbohydrate 7.00 g 2% Phosphorus 85.00 mg 9% Vitamin D (as Cholecalciferol) 500.00 IU 125% Vitamin B1 (as Thiamine HCl) 2.00 mg 133% Niacin (Vitamin B3) 20.00 mg 100% Vitamin B6 (as Pyridoxine HCL) 2.00 mg 100% Folate (as Folic Acid) 200.00 mcg 50% Vitamin B12 (as Cyanocobalamin) 6.00 mcg 100% Pantothenic Acid 10.00 mg 100% Calcium 90.00 mg 9% Calories 30.00
Magnesium 125.00 mg 31% Sodium 140.00 mg 6% Potassium 220.00 mg 6% N.O.-XPLODE™ MASTER PERFORMANCE BLEND* 10.50 g ** Myogenic Matrix* 5.50 g ** Creatine Blend (Creatine Monohydrate Creatine Anhydrous Creatine Peptides [Hydrolyzed Whey Protein Isolate
** Creatine Monohydrate] (CREActivate)) Taurine Di-Calcium Phosphate Di-Sodium Phosphate AstraGIN® Proprietary Blend
** (Astragalus membranaceus Extract (root) Panax notoginseng Extract (root))
** Endura Shot* 2.70 g ** BETA Composite (CARN+ Blend [Beta-Alanine (as CarnoSyn®) & Beta-Alanine HCl] Betaine Anhydrous (BetaPower®))
** Potassium Bicarbonate Sodium Bicarbonate Magnesium Oxide Cholecalciferol
** N.O. Alpha Fusion 850.00 mg ** L-Citrulline Malate Danshen Extract (Salvia miltiorrhiza) (root) Grape Skin Extract
** Phyllanthus emblica Extract (fruit) (CAPROS®) Hawthorn Extract (aerial parts) (1% Flavonoids) Folate
** Shock Composite* 680.00 mg ** DMAE Bitartrate (2-Dimethylaminoethanol) L-Lysine HCl DL-Phenylalanine Niacin Calcium D-Pantothenate
** Toothed Clubmoss Extract (aerial parts) (1% Huperzine A) Pyridoxine HCl Thiamin HCl Cyanocobalamin
** Thermic Energy* 520.00 mg ** N-Acetyl-Tyrosine Caffeine Anhydrous Grapefruit Bioflavonoids Pterostilbene:Caffeine Cocrystal (PURENERGY)
**
** Daily Value (DV) not established
Other Ingredients: Natural and Artificial Flavors, Citric Acid, Malic Acid, Calcium Silicate, Silicon Dioxide, Sucralose, Acesulfame Potassium, FD&C Red #40
Warning: CONSULT YOUR PHYSICIAN BEFORE USING THIS PRODUCT IF YOU ARE TAKING ANY MEDICATION OR ARE UNDER A PHYSICIAN'S CARE FOR A MEDICAL CONDITION. NOT FOR USE BY THOSE UNDER THE AGE OF 18, WOMEN THAT ARE PREGNANT, TRYING TO GET PREGNANT, OR NURSING, OR THOSE THAT ARE SENSITIVE TO BETA-ALANINE OR NIACIN. BETA-ALANINE AND NIACIN MAY CAUSE A HARMLESS, TEMPORARY TINGLING OR FLUSHING SENSATION.
Do not combine with alcohol. Consume as part of a healthy diet and exercise program, and drink at least 100 oz of water per day. Exercise may increase your need for additional fluid intake. Keep out of reach of children. Store in a cool dry place away from direct sunlight.

Contains Milk Ingredients