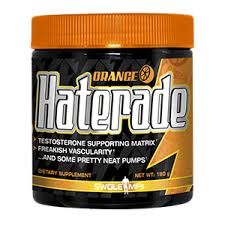 Haterade by Swole Mfs
Try Swole MF's most revolutionary product on the market-Haterade. Sick pumps and incredible testosterone supporting ingredients you will not go wrong. You will feel the pumps from the first work out. We also included N-Methyl D-Aspartic acid and Epicatechin to make this the most complete and comprehensive product in it's category.
HATERADE will make you feel PUMPS from your first work out!
HATERADE includes 2 of the most advanced preworkout ingredients:
N-Methyl D-Aspartic Acid
Epicatechin
These ingredients make it one of the most complete and comprehensive preworkouts available.
Try HATERADE for some SICK PUMPS and incredible TESTOSTERONE BOOST!