Garcinia Cambogia by Dynamic Health 30 OZ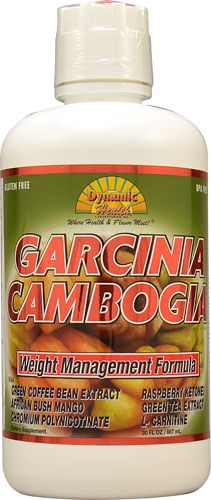 Garcinia Cambogia by Dynamic Health 30 OZ
Dynamic Health Garcinia Cambogia Description
Weight Management Formula
with
Green Coffee Bean Extract

African Bush Mango

Chromium Polynicotinate

Raspberry Ketones

Green Tea Extract

L-Carnitine

Gluten and BPA Free
Garcinia Cambogia Extract Juice Blend
Dynamic Health Laboratories Inc's Garcinia Cambogia Extract Juice Blend is a unique formulation that provides:
Super CitriMax a natural plant extract that has been clinically studied weight control ingredient that can help: curb appetite, reduce caloric intake, and burn fat.
Green Coffee Bean Extract (Svetol) is made from green coffee beans before they are roasted for traditional coffee and acts as a daytime Thermogenic.
L-Carnitine is traditionally used to maintain heart health and fat metabolism
Raspberry Ketones is an extracted compound derived from Red Raspberries, which may help to boost the Adiponectin Hormones
African Bush Mango (Irvinia gabonensis) Irvingia IGOB131may assist to boost metabolism.
Green Tea Extract is traditionally used to boost metabolism
ChromeMate is a patented bio active oxygen coordinated chromium-niacin complex
---
Directions
Recommended Use: (To Promote Satiety) Take 2 tablespoons (1fl oz) daily up to two hours before meal.
Clinical Strength Recommended Use: (Helps Burn Fat) Take 3 tablespoons (1 fl oz) up to three times a day before a meal, or as directed by your health care professional.
Free Of
Gluten and BPAs
Disclaimer
These statements have not been evaluated by the FDA. These products are not intended to diagnose, treat, cure, or prevent any disease.
Supplement Facts
Serving Size: 1 fl oz
Servings per Container: Approx. 30


Amount Per Serving
% Daily Value


Calories (energy)
15




Sodium
15 mg
<1%


Total Carbohydrate
4 g
1%


Dietary Fiber < 1g


1%


Sugars
3 g
*


Calcium (as hydroxycitrate)
120 mg
13%


Chromium (as O-polynicotinate) ChromeMate
40 mcg
33%


Potassium (as hydroxycitrate)
180 mg
7%


Garcinia Cambogia (fruit rind) Extract
1500 mg
*


(-)Hydroxycitric acid Super CitriMax brand
900 mg
*


Green Coffee Bean Extract Svetol
200 mg
*


Green Coffee Bean Extract Pure Green Coffee Bean PE Total Chlorogenic Acids 50% HPCL
200 mg
*


Raspberry Ketones (99%)
150 mg
*


African Bush Mango IGOB131 (Irvinia gabonensis) PE 4:1
100 mg
*


Green Tea Extract
50 mg
*


L-Carnitine
50 mg
*


*Daily value not established.
Other Ingredients: Triple filtered water, black raspberry fruit (powder), organic mangosteen puree, vegetable glycerin, pectin (citrus) guar gum, organic stevia, citric acid, natural raspberry flavor and potassium sorbate (to maintain freshness)
Before taking a dietary supplement, consult a doctor or other health care provider especially if you have a disease or medical condition, take any medications are pregnant or nursing or are planning to have an operation.