ESHRED by UG PHARMA 90 caps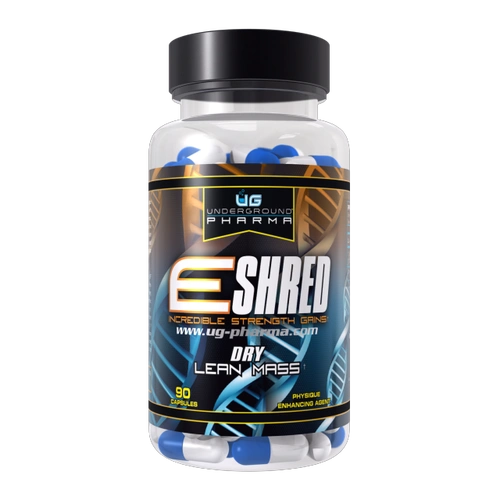 ESHRED by UG PHARMA 90 caps
E-SHRED by UG PHARMA
UG PHARMA is the premier manufacturer in the industry for performance enhancement drugs and testosterone booster supplements. They are well known to provide a wide range of supplements that enhance athletic performance and aid muscle building for athletes, individuals, and bodybuilders.
E-SHRED is an anti estrogenic supplement that offers minimal side effects and ensures dry lean muscle mass gains. The supplement is highly effective and has been a major hit amongst individuals who want to put lean muscle mass, without getting any estrogen conversion.
Fast acting pro-hormone supplement
E-SHRED has got different ingredients, which ensure that the muscle gains are all natural and there are no complications caused by the side effects. It is recommended that individuals who are consuming the supplement should not take more than the prescribed dosage, as it may lead to complications.
If you want to acquire lean muscle mass then there are very supplements on the market that are better than E-SHRED. It is very highly rated in the industry and will help you get the desired body, without any complications or side effects. Lots of athletes and bodybuilders have reported using this supplement and have gotten great results.
No Estrogen conversion and fast muscle growth
E-SHRED by UG PHARMA can also be stacked with other supplements. However, it is advised that you check for compatibility with other supplements before stacking. Here are some benefits you will gain from ESHRED:
v No estrogen conversion
v Maintains healthy sexual functions
v Increases lean muscle in the body
v Greater energy levels and drive
v Decreases body fat
If you want to acquire lean muscle mass quickly and get into the best shape of your life, you will not find better supplements than E-SHRED by UG PHARMA. It is available at amazing prices on Whattsupps.com – the home of highly quality supplements and performance enhancers in Australia. Place your order today and get delivery at your doorstep.
WARNING: This product is only intended for use by adult men. Women, children, or anyone under the age of 21 years should avoid using this product. It is recommended to get medical advice before starting a supplementation program, especially if a user is consuming prescription medications and/or has a prevalent medical condition. Do not use the product if the seal is broken. Users must always follow the directions provided by manufacturer, and must read the label to make effective use of this product. Seek medical attention immediately if the side effects of this product persist after discontinuation.