Daily Detox Tea by Rooney 30 Filerbags/Sachets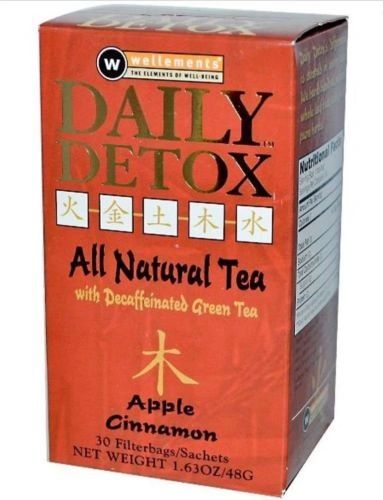 Daily Detox Tea by Rooney 30 Filerbags/Sachets
We are exposed to increasing amounts of harmful pollutants in today's environment. How can you combat the toxins and live a healthier, more balanced life? Purification and detoxification. Wellements Daily Detox All Natural Tea combines ten powerful Chinese purification herbs for superior, total-body cleansing. This decaffeinated green tea helps make purification part of your everyday life.
Organic Ingredients: Milk Thistle (seeds), Red Clover (tops), Dandelion (root), Yellow Dock (root), Burdock (root), Hibiscus (flower), Echinacea Augustifolia (whole plant), Fenugreek (seeds), Ginger (root), Green Teas.
Additional Ingredients: Sarsaparilla (root), Natural Fruit Flavors.
How to Make a Great Cup of Tea
Daily Detox Tea can be prepared as a hot or iced tea.
For a reflective cup of hot tea, use one tea bag. Bring the freshest of water to a boil and pour into a cup over filterbag. Allow to steep for two to three minutes. Gently squeeze filterbag and remove. Serve with milk, soy milk or other milk substitute if desired.
As an iced tea, Daily Detox is a distinctive departure from traditional iced tea. It is a great thirst quencher. Enjoy!
Terms and Ingredient Definitions
Categories