Crackhead by XLSN pre-workout 35 Servings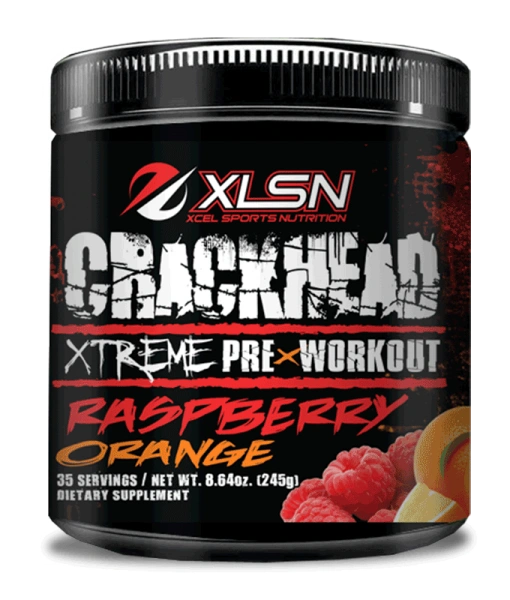 Crackhead by XLSN pre-workout 35 Servings
Crackhead by Xcel Sports Nutrition
Looking for an extreme stimulant to get you motivated for your day or for your next gym session? Crackhead is the perfect supplement to blast your energy through the roof with an impressive list of stimulating ingredients. You will also experience skin splitting pumps and mind piercing focus with addition of Beta Alanine and Agmatine.
Beta Alanine increases the production of carnosine which helps control the Ph levels of the muscle cells. Lower Ph levels cause muscle fatigue so Beta Alanine will help you perform harder and longer.
Agmatine Sulfate improves nitric oxide levels and enhances focus and can provide neuropathic pain relief.
Caffeine Anhydrous, Dendrobium, Hordenine, all are stimulants with mood enhancing properties. This is the blast of energy with the happy pill effect that gives the extra umph to get you going and keep you there.
Phenylthylamine helps you feel more alert and have a greater sense of well-being and contentment.
Alpha GPC increases growth hormone in athletes and you may experience significant gains in memory, brain energy, focus, and mental fluidity.
Alpha yohimbine included to increase exercise performance and build muscle mass, burn fat and boost weight loss, and may increase libido.
Niacin causes the blood vessels to dilate or open up near the skin, which results in the coveted vasodilation. As a side to this it is very good for circulation and also lowers cholesterol and triglycerides.
Once you have used this pre-workout you will never want to go without it. Get the most explosive workouts everyday to maximize your gains. Crackhead Xtreme Pre-Workout is not for the faint of heart.
Supplement Facts
Serving Size: 1 Scoop
Servings per Container: 35
Niacin 8mg *
Beta Alanine 3,000mg *
Agmatine Sulfate 350mg *
Caffeine Anhydrous 275mg *
Dendrobium Extract 30mg *
Hordenine HCl 10mg *
Beta Phenylthylamine HCl 5mg *
Alpha GPC 50% 4mg *
Rauwolfia Vomitoria Extract (std. min. 90% Alpha Yohimbine)(root)(bark) 3mg *
* Daily Value not established
Other Ingredients: Citric Acid, Acesulfame Potassium, Silica, Natural & Artificial Flavors, Sucralose.
Directions: As a dietary supplement for adults, take 1 serving in 8-10 oz. of cold water once daily, 30 minutes before workouts