AVIVA NUTRITION | SUPER FRUITS & GREENS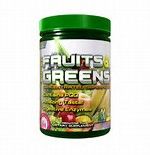 AVIVA NUTRITION | SUPER FRUITS & GREENS
SUPER FRUITS & GREENS
Concentrated Superfood!

Contains an abundance of fruits juice and vegetable extracts.

Pharmacist formulated to help support overall health and wellness.
Fruits and Greens are the essential key to any healthy diet. This nutrient rich concentrated superfood blend not only tastes amazing but gives you a serving of all of your daily fruits and greens in a few scoops that you can mix up and drink of the go. Discover the secret of this delicious Fruits and Greens drink mix which contains PQQ that aids in incredible gut health along with fast acting digestive enzymes which help you process food in the most efficient manner. Now you can acquire all of the energizing benefits from one source with Fruits and Greens from Aviva Nutrition.
Experience the AVIVA difference with SUPER FRUITS & GREENS, a super food revolution.
Digestive Enzymes SUPER FRUITS & GREEN contains an abundance of fruits juice and vegetable extracts, pharmacist formulated to help support overall health and wellness.*
We have also added PQQ, a super antioxidant, along with natural enzymes for digestive health.*