Aromastim by NVIE Nutrition 60 Servings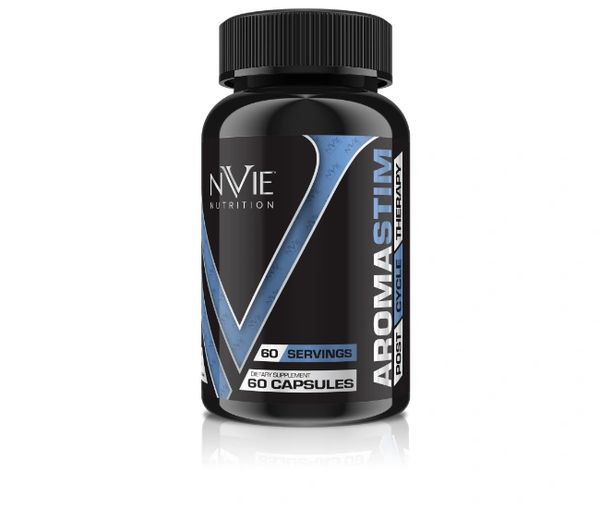 Aromastim by NVIE Nutrition 60 Servings
Post Cycle Therapy, Anti-Estrogen. Aromastim can be taken on & off cycle, without having to rotate off for extended periods. With only 1 capsule per day needed and effects felt within 7-10 days, there is no other Estrogen Inhibiting product quite like this! Aromastim is the strongest combination of Anti-Estrogen ingredients – if you want to increase Libido, lower Cortisol and inhibit Aromatase enzymes, Aromastim is the answer!
Ingredients:
Supplement Facts
Aromastim
Supplement Facts

Serving Size: 1 Capsule. Servings Per Container: 60
Amount Per Serving
% Daily Value
ESTROCEPT
White Button Mushroom
3,5,7, Trihydroxy-4- Methoxy Flavone, 90%
DIM
Acacetin (5,7 – Dihydroxy – 4- methoxyflavone
Pierine 95%
330mg
**
LIVER PURE
Milk Thistle Seed Extract
Resveratrol 50%
Grape Seed Extract (95% Procyanidolic oligomers)
200mg
**
TESTASTIM
Fenugreek (50% Saponins)
3,4 – Divanillytetrahydrofuran 95%)
175mg
**
Other Ingredients: Maltodextrin, Magnesium Stearate, Gelatin, Titanium Dioxide, FD&C Yellow #5, FD&C Yellow #6.
**Daily Value Not Established.
*These statements have not been evaluated by the FDA. This product is not intended to diagnose, treat, cure, or prevent any disease, but rather a dietary supplement intended for nutritional support.