380 bt AvivaNutrition and Pure Recovery by Pure Clinical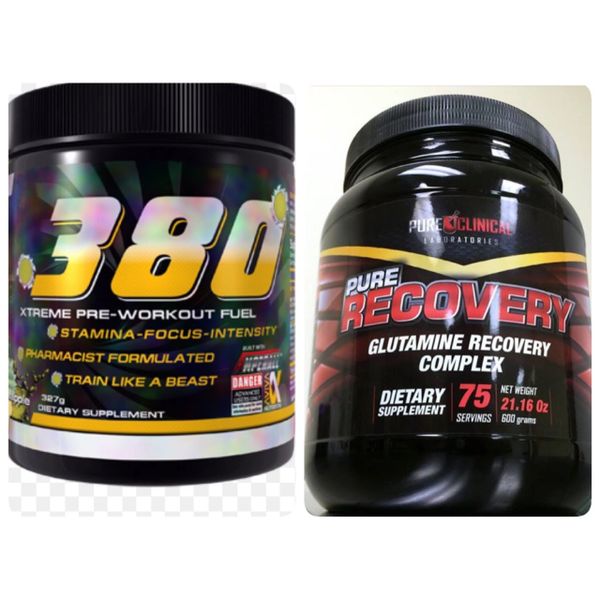 380 bt AvivaNutrition and Pure Recovery by Pure Clinical
380

Are you prepared for the most effective best tasting pre-workout supplement on the market today? Release your inner beast in the gym with 380 an incredible pre-workout formula! Never has getting ready for the gym tasted so good. 380 combines the top leading pre-workout components into one great product that will change the way you workout. No more mediocre sessions and no more going home early. Focus! Energy! Pump! you will not want to leave the gym. Time to start recording some personal bests and blasting through those plateaus. Grab you jug today and start training like a BEAST!
Extra Aggression in the Gym

Increased Muscle Mass

Increased Vascularity

Insane Endurance

Increased Pump

Extreme Focus

No Crash
Supplement Facts
Serving Size: 1 Scoop (10.9g)
Servings per Container: 30
380 Xtreme N.O. Pump Matrix 7.1g *
Beta Alanine, Creatine Monohydrate, L-Arginine, Creatine HCl, L-Norvaline, Agmatine Sulfate, Creatinol-O-Phosphate
380 Xtreme Amplification Stimulant Complex 2.3g *
Taurine, Acetyl-L-Carnitine, Caffeine Anhydrous, N-Acetyl-L-Tyrosine, Amperall (2-amino-4-methylpentane), Di-Caffeine Malate, Theobromine, Dendrobium (stem and aerial parts) 25:1 Extract
* Daily Value not established
Other Ingredients: Natural & Artificial Flavoring, Citric Acid, Silicon Dioxide, Sucralose, Acesulfame K, FD&C Red #40, FD&C Blue #1.
Directions: As a dietary supplement, mix 1/2 to 1 scoop in 8-12 oz. of water, stir adequately and consume 30 minutes prior to desired activity. For best results use on training and non-training



Pure Recovery



Heavy training can take a toll on your muscles, and when you're training hard every day your body may not be able to produce sufficient Glutamine for recovery.
Hardcore lifters and athletes know that supplemental Glutamine is a must if they want to maximize recovery - since Glutamine is a conditionally essential amino acid.*
Glutamine is used as a cellular fuel, supports protein metabolism, and may help replenish muscle glycogen stores when combined with carbohydrates.*
Glutamine has also been found to boost bicarbonate production, which can be important for buffering lactic acid produced during intense training.*